Why use chlorine dioxide as a disinfectant?
For maximum output with the lowest possible consumption of chemicals and maximum operating safety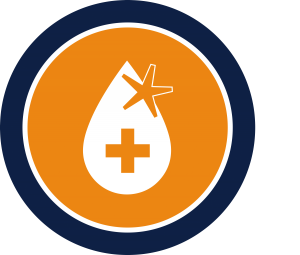 Whether you work in the food or drinking water industry or treat cooling or waste water, chlorine dioxide is a universally applicable disinfectant. Especially for protection against Legionella bacteria. Chlorine dioxide has many advantages over other types of disinfection and is ecologically sustainable. Due to its high reactivity at the site of use, chlorine dioxide must be manufactured using special equipment and is not allowed to be transported.
Benefits of chlorine dioxide compared to other disinfection processes:
+ Disinfectant effect is maintained with increasing pH value
+ Chlorine dioxide remains stable in the service network for a long time
+ Chlorine dioxide ensures microbiological protection of the water
+ no trihalogen methanes (THM) are produced
In addition, chlorine dioxide kills and actively removes biofilms that form in water-bearing pipes.
Our chlorine dioxide systems Bello Zon® CDVd and CDKd are very user-friendly and can be easily and safely integrated into any water treatment process. While the special reactor concept generates chlorine dioxide simply and reliably, the system control provides intuitive menu navigation and precise production of chlorine dioxide.
New features
We have further developed our existing Bello Zon® systems. You benefit from a new generation of chlorine dioxide systems in well-known ProMinent quality. Food-compatible PVC is used instead of the PVC generally used in the industry. The new control allows easy and intuitive operation. A further highlight is communication via all established BUS systems, web servers and with our DULCOnneX platform, which meets all requirements for the networking of tomorrow.
Our new Bello Zon® CDKd with its own integrated pre-dilution station uses a new process for which a patent has been applied. This saves up to a quarter of the amount of acid by automatically and individually adapting the hydrochloric acid consumption to the operating conditions.
Discover for yourself the benefits of the new generation of chlorine dioxide systems: Bello Zon® CDVd for dosing chlorine dioxide with diluted starting chemicals and Bello Zon® CDKd for those with concentrated starting chemicals